2114 Old Dollarton Road, ​North Vancouver, BC
604.990.8885 |
info@nuttree.ca
January 8, 2016
Our website has been updated with more photos.
November 17, 2016
Our website has been updated. Please refer to the Menu tab for lots of new photos. Our Juices / Smoothies menu has been updated as well.
We will continue to add more information and will keep you posted.


July 15, 2016
We will be on vacation for a couple of weeks returning July 28, 2016
Store will reopen on July 28, 2016
HAPPY SUMMER!
​
June 11, 2016
We introduced a veggie burger to our menu a couple of months ago. Made with sprouted nuts and seeds, seasoned with herbs, it has a very good flavour and makes for a great substitute to meat products.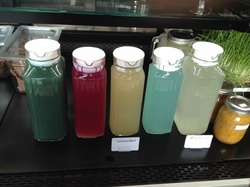 December 28, 2015
In the fever of Star Wars (which was filmed mostly in North Vancouver by the way), here is our tribute to the bright sword colors.

These are healthy tonic drinks made with Rejuvelac base and E3 Live.
---
October 28, 2015
Hot Chocolate in a cold rainy day feels pretty good. Ours is made with all organic ingredients and sweetened with maple syrup. You may ask for other sweeteners too. It doesn't have to be too sweet to taste good.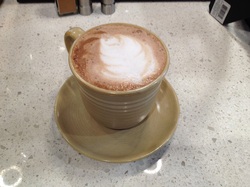 ---
October 23, 2015
It's good to have a sun facing patio. I could count the days Vancouver has sunshine, but it's been a lot lately.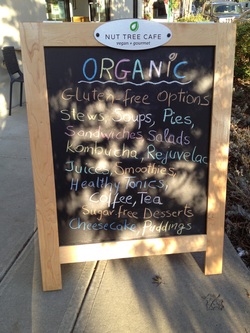 We're not making it up. We really do have all these options.
Please come by and enjoy our wide selection of great tasting vegan foods.
---
October 22, 2015
We have made Caesar Salad today with spelt bread croutons. The caesar sauce is certainly our own variation of vegan of mayonnaise and cheese.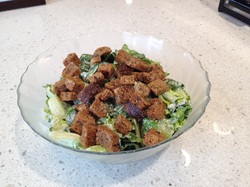 Caesar Salad with spelt croutons. Soon we will introduce croutons made with gluten-free breads as well.
---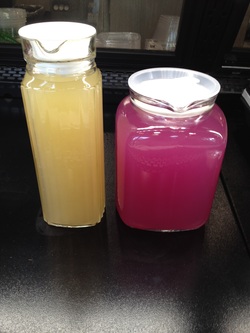 Pink Champagne (non-alcoholic) and Lemonade made with Rejuvelac.
---
October 17, 2015
Customers that have tried our Hot Chocolate and Mocha, recently added to our menu seem to really like them. These are made with all organic ingredients.

Several customers had been asking about Matcha Tea. Since it has become so popular in the recent years, and given the undisputed health benefits of green tea, we decided to add this to our hot drinks menu. Our Matcha Tea is organic and is served as Tea or Latte.

(I am not the best with remembering to take photos, but will try post a few of these drinks in the next few days.)


Our aim has been to expand our pastry selection. In the last three days we have made Banana Bread that has become popular already. It is made with gluten-free ingredients, all organic with sprouted walnuts, sesame seeds and chocolate chips. It really tastes very good and it's one of my favourites.

Making banana bread was much easier than making scones, which I've tried twice so far without pleasing results. Hopefully third time will be more promising.

For our pastry selection so far we have Muffins, Cookies, Banana Bread and Apple Strudel. These are a great addition to our breakfast menu of oats, manna bread, toast and homemade sprouted granola (oats and granola are made with gluten-free ingredients). Please come visit us for breakfast or mid-morning, afternoon snack. If you would like to buy in larger quantities for an event, please feel free to call us in advance and we will make sure to accommodate your order as requested.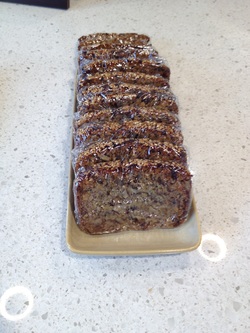 Our super delicious banana bread made with sprouted walnuts,
sesame seeds and
chocolate chips . Made with gluten-free ingredients, all organic. Sweetened with agave syrup for low-glycemic index.
---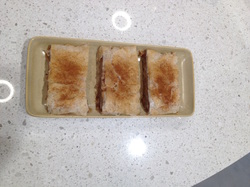 Apple Strudel and Cinnamon, made with Fillo Dough.


---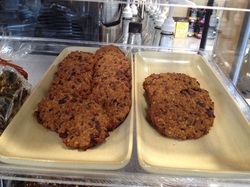 Chocolate Chip, Cranberry, Orange Zest Cookies,
made with gluten-free ingredients.
---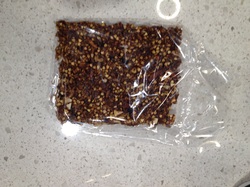 Raw, Dehydrated Sprouted Buckwheat granola bars
made with gluten-free ingredients, sprouted nut and seeds
and fresh fruit.
---
Cheesecakes have become very popular since we started making them in early August 2015. We serve them in flavours of lemon and chocolate and have become a regular on our deli selection.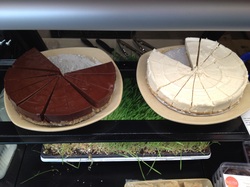 Delicious Cheesecake at Nut Tree Cafe, vegan + gourmet.

Good cheesecake makes you dream of it. This is delicious by any standard, vegan or non-vegan.

Made with gluten-free ingredients.
---
We have introduced a Super 7 juice with seven well nourishing ingredients. It has become the most popular of our juice menu. How this came about... - A friend of mine wasn't feeling well one day in the summer time and came to the store for a juice in the hope of feeling better. She asked me to add garlic to the juice. I was a little doubtful of the taste at first, but when I tasted it, it was actually pretty good. The garlic flavour and richness of ingredients in the Super 7 make it a complete meal in my opinion.

We are now selling E3Live and E3PowerON. Based on material I have read, it is my opinion that wheatgrass seems to have more nutrition overall, however, these two products are still packed with nutrition and have different compounds than wheatgrass, since they are a seafood. I am not a fan of algae, given how polluted our oceans and seas are, but the claim is that E3 AFA (algae) comes from the Volcanic Basin of Upper Klamath Lake, which is claimed to be one of the richest nutrient traps in the world and gets over 300 days of sunlight per year (it means very good chlorophyl content). Please check their website for more information http://www.e3live.com.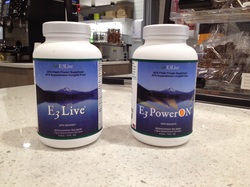 E3Live and E3PowerON, now available at Nut Tree Cafe.
---
September 26, 2015
We have now included "Hot Chocolate" and "Mocha" to our menu. Please come by and give it a try.
Our TV menu screens have also been updated so notes are a little easier to read.
In an effort of helping me with some good feedback, a friend of mine made a comment that everything in vegan stores is usually expensive and posed the question "for example,
what can you buy in your store that costs no more than $6
".
- So, here is a list. I would like to use this as an opportunity to advertise from this perspective as I am sure a lot of people can relate to it.
1. All small soups, stews and salads
2. All small breakfast dishes, including toast and manna bread combos
3. All desserts, cookies and muffins
4. All sides, toast and nut cheese, nut cheese sampler, bruschetta
5. All chips, combos, smalls and large
5. All tonic drinks small and large
6. Glass of nut / seed milk
7. Small juice or smoothie glass
8. All coffees and teas
I believe for the quality of food we are providing and the way we prepare it, our products are inexpensive.
--
Another topic of interest lately has been the amount of
protein
in the foods we serve. We have written a short section to answer a few simple questions. Please click on the "Health" tab, scroll at the bottom of the page and you will find a section on "
Protein Considerations
".
July 24, 2015
We are now opened on Saturdays.


July 23, 2015

We finally got to uploading some new photos. Please view the Gallery tab (towards the bottom) for photos from our breakfast menu with manna bread or toast and nut cheese,
fruit and
jam. Some photos are from the meetup group dinner in June, other photos display various stews
and main dishes we are making on a daily basis, whether it's a leek pie or potato stew or ratatouille. We will post these photos eventually on our Facebook page as well.

July 10, 2015
We are now open at 7:00am. We serve sandwiches anytime, which may be convenient for those who would like to pick up a sandwich on their way to work.

June 30, 2015

We are selling granola yogurt cups in to-go containers made with our homemade sprouted buckwheat granola (with soaked and sprouted nuts, seeds and fruits) and Yoga yogurt. This is an addition to our breakfast menu currently offering granola with milk of choice, manna bread with fruit and milk, oats and toast bread with fruit and milk.


June 21, 2015

It's
been a while since we last posted news, but lots has happened in the last month and a half. Nut Tree Cafe hosted a dinner event for the Meatless Meetup Group in the first week of June. We served a three course meal, which included

appetizers - hors d'oeuvres, kale salad, cucumber salad
entrees -
spinach pie, spinach nut cheese ravioli, and rosemary potatoes
desserts - creme caramel and chocolate ganache



The Meatless Meetup Group has now scheduled a second dinner event on August 9th. To register, please visit the following link


http://www.meetup.com/MeatlessMeetup/events/223081587/

Please refer to our Gallery section for photos of this dinner event.

--
Articles on Nut Tree Cafe
Erin Ireland, a local food critic journalist with a beautiful mind and desire to help local businesses wrote an article about our cafe on April 30, 2015. Here is the article link to Erin's website itstodiefor.ca
http://itstodiefor.ca/nut-tree-cafe-north-vancouvers-newest-vegan-restaurant/

Erin, we would like to thank you very much for your support and for grasping the essence of our cafe even on a short visit. We also thank you for announcing us on The Peak radio channel. Many customers heard about us on the radio and they said they follow your website and radio show regularly.

A second article
was written about our cafe by Serena Matter on the Daily Secret, on June 10, 2015. Here is the link to Serena's article
http://canada.dailysecret.com/vancouver/en/north-vancouver/restaurants/nut-tree-cafe#axzz3dk1lfc6R
Serena, we would like to thank you for your passion in vegan foods and appreciating what we have to offer. You have tried a good selection of treats here and there is more to come. Thank you very much for your support and belief in vegan foods.

--

Food at Nut Tree Cafe
Specialty foods we have made during this past month include dolmathes made the Albanian style (called "japrake" in Albanian). These are made with fresh grape leaves. Since this is the only time of the year to harvest grape leaves to the right size and strength, this is a limited time dish only. We will make this dish one more time this coming week. It will be posted on our Menu section as a daily special.
Spinach pie and Leek pie have been on the menu two or three times each. Other special dishes have been Corn Chowder cold soup, which we have had to make three times in a week due to customer requests.
--
May 15, 2015
We are now selling Yoga Yogurt in 550g containers.


May 8, 2015
We are considering starting a "Healthy Meal Program" (HMP) for any of our customers that might be interested. The program would include fresh juices and smoothies for the day, breakfast (yogurt granola or oats) and lunch (vegetable soup made on slow cooker and vegetable stews, as these are the options that provide the most minerals in a meal) and a salad. A sample daily meal package would be

1. Alkalizing juices for the morning


2. Breakfast


3. Vegetable drink


4. Lunch



5. Fruit smoothie
6. Nut Milk
7. Green drink
The signed up guest would pick up the box in the morning with prepared drinks and meals. It is best to take the first one or two juices while at the cafe, so they are fresh and rich with enzymes.

We are of the opinion that having healthy juices and meals rich in nutrients is the way to live, not a passing by phase.

We would like to share our passion for healthy and tasty vegan foods with our customers. We hope that many may be able to learn from this way of food preparation which is by soaking, sprouting

and fermenting for increased nutrition and in their most natural way.
If anyone is interested in our Healthy Meal Program (
HMP
), please send us an email at
info@nuttree.ca
and let us know.
April 30, 2015
Today's spinach pie was made with spelt dough and nut cheese. It sold before it could cool off in the pan. We will make it again and offer it as a combination of spinach pie with either soup or salad of the day.
New*
We will soon be serving Yoga yogurt from Yoga local producers. This yogurt is made with almond milk and brown rice. It tastes great and is very creamy quite resembling the dairy yogurt. It is fermented with very little sugar that serves as a starter for the fermentation process. We will only carry the plain yogurt that is not sweetened. This product is closest to our guidelines for remaining sugar-free. We will start carrying this product in the next week or two.
March 2015
Please refer to the Gallery section for new photos.
As a new establishment, we are still introducing new items to our menu. We would like our customers to know that we have started serving hot meal dishes in addition to our soup and sandwich lunch menu. In the past few weeks we have served a delicious Italian Polenta with Fine Herbs, Brown Rice Stuffed Vegetables with Fresh Herbs, Squash with Nut Cheese and Steamed Veg and ratatouille. (Next on our wish list to add to our hot meals menu is nut cheese spinach ravioli and pine nut pesto ravioli). Please refer to our Menu page where we will post daily specials for soups and hot dishes.
In consideration of our customers that prefer low-glycemic foods, we are now making our muffins with agave syrup rather than maple syrup. The agave syrup we serve has a glycemic index of 17.
Our deli section now includes in-house made pickled beets and sauerkraut jars for sale.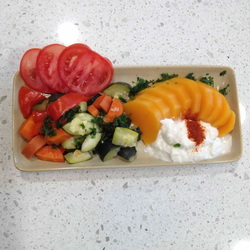 Here is our Steamed Squash and Vegetables dish with Nut Cheese and Herbs.

---
Muffins are made with Agave Syrup that has a glycemic index of 17. We serve wheat bran and oat bran gluten-free muffins.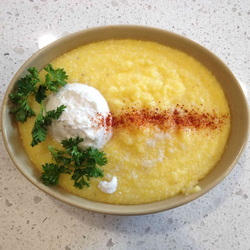 We have just started taking photos of the dishes we serve, so we can show on our website. Here is what we served on Fri, Mar 27/15.



Italian Polenta with Nut Cheese and Fine Herbs
- Large Bowl
---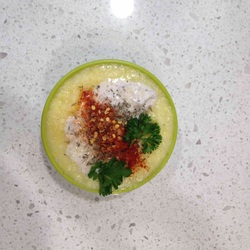 Italian Polenta with Nut Cheese and Fine Herbs
- Small Bowl
---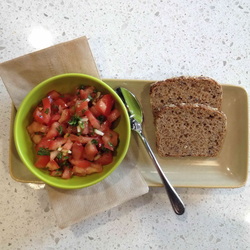 Side of Bruschetta with toasted quinoa bread

---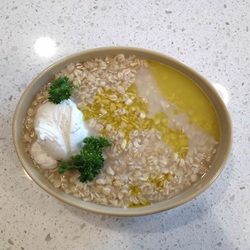 Breakfast - Fermented Oats, our salty version made with nut cheese (macadamia in photo) and olive oil.

Oats are a very good source of calcium and they make for a wholesome breakfast that will keep you in good energy for the entire morning.

This oat dish is also served sweet with fruits and syrup.

---
We will start serving wraps similar to all our sandwich variations. Our customers will soon have the option to order a wrap instead of bread if preferred.

Here are some specials we served in the recent past days.
May 13, 2015
Potato Rosemary Stew
Tomato Basil - Hot Soup

May 10, 2015
Zucchini Stuffed with Brown Rice
Pearl Pea - Hot Soup


Creamy Potato - Hot Soup
Tomato Basil - Hot Soup

May 6, 2015
Pearl Pea - Hot Soup
Creamy Potato - Hot Soup
Red Bell Peppers Stuffed with Brown Rice

May 5, 2015
Red Bell Peppers Stuffed with Brown Rice
Tomato Basil - Hot Soup
Sushi
- Garden Veg
May 4, 2015
Potato Leek Stew
Minestrone - Hot Soup
Corn Chowder - Hot Soup

April 30, 2015
Spinach Pie with Spelt Dough and Nut Cheese
Ratatouille - Vegetable Stew
Tomato Basil - Hot Soup
Tarator - Cold Soup
April 22, 2015
Brown Rice stuffed Red Bell Peppers and Tomatoes
Potato Leek Stew (potatoes made in slow cooker)
Creamy Pea - Hot Soup
Tomato Basil - Hot Soup
Minestrone - Hot Soup
Tarator - Cold Soup
April 10, 2015
Steamed Squash and Veg with Nut Cheese
Quinoa and Steamed Veg with Nut Cheese
Creamy Potato - Hot Soup
Tomato Basil - Hot Soup
Tomato Basil - Raw Soup
Sushi - Garden
(brown rice, avocado, cucumber, peppers, celery, carrots, macadamia, soy-free sauce)


April 7, 2015
Tarator - Raw Soup
Tomato Basil - Hot Soup


Creamy Potato - Hot Soup


Steamed Squash and Veg with Nut Cheese
Quinoa and Steamed Veg with Nut Cheese


Wednesday, April 1, 2015
Minestrone - Hot Soup
Creamy Carrot Pea - Hot Soup
Tomato Basil - Raw Soup
Tarator - Raw Soup (made with cashew cheese, cucumber, walnuts, parsley, salt, olive oil)
Sushi (brown rice, cucumber, avocado, red bell pepper, radish, sprouts, pumpkin seed cheese, lemon)


Tuesday, March 31, 2015
Pearl Pea - Hot Soup
Tomato Basil - Raw Soup
Tarator - Raw Soup
(made with cashew cheese, cucumber, walnuts, parsley, salt, olive oil)

Monday, March 30, 2015
Corn Chowder Soup
Italian Polenta with Fine Herbs

Friday, March 27, 2015
Italian Polenta with Fine Herbs and Nut Cheese - 6.00 small, 9.00 large
Creamy Potato Soup
Kale Sesame Salad
Quinoa Salad
Mediterranean Salad
Sushi - avocado, red bell pepper, cucumber, celery, sprouts, pumpkin seeds