2114 Old Dollarton Road, ​North Vancouver, BC
604.990.8885 |
info@nuttree.ca
What's special about Nut Tree Cafe

As a fairly new establishment in the Maplewood in North Vancouver, we hope you will find our Café pleasant and inviting
. In addition to providing our goods and services to the area, we feel it is our (as well as everybody's) responsibility to operate within as small a carbon footprint as possible.
With this goal in mind, we are pleased to use several groundbreaking and Eco-friendly techniques and features at our location:
At Nut Tree Cafe, it is our belief that using organic, sustainably-grown produce is one of the most basic considerations human beings can have for the planet we live on. Growing and eating food in its most natural form without pesticides and additives is better for both our bodies and our environment.
We use eco-friendly bio-degradable materials for all of our to-go containers, as well as all our in-store cleaners and garbage bags. Here is an excerpt from the manufacturer's website of our china, made in Englad with the following eco-friendly features:
"Produced using 100% lead-free ThermECO glaze, manufactured using a once-fired technology, significantly reducing the impact of production on the environment. Produced entirely in the UK, this line has been developed with the prime objective of reducing the carbon footprint created during the manufacturing process. And, at 79%* less than the equivalent porcelain product, it currently has the lowest carbon emissions of any ceramic hospitality tableware manufactured anywhere in the world."
The design of our café purposely includes LED lightin
g to save energy with integrated lighting controls to provide different illuminating and power saving functions. Our mechanical ventilation was designed with this end in mind as well.
During our construction, we made sure to use only low-VOC paints, and to finish all of our dining-tables with a non-hazardous, water-based coat.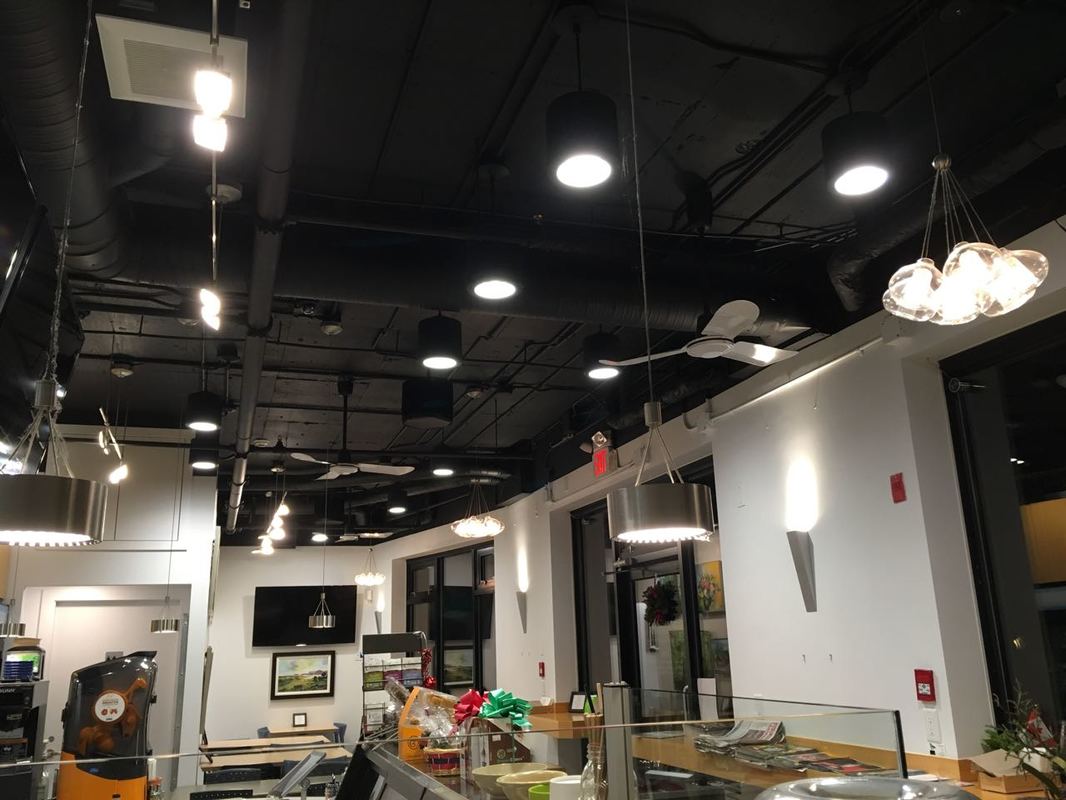 Art and Literature
Our Art wall proudly displays local and international artists' works, and really helps to bring a sense of real local colour to our Café. They also provide a sense of natural comfort as you relax and enjoy your meal.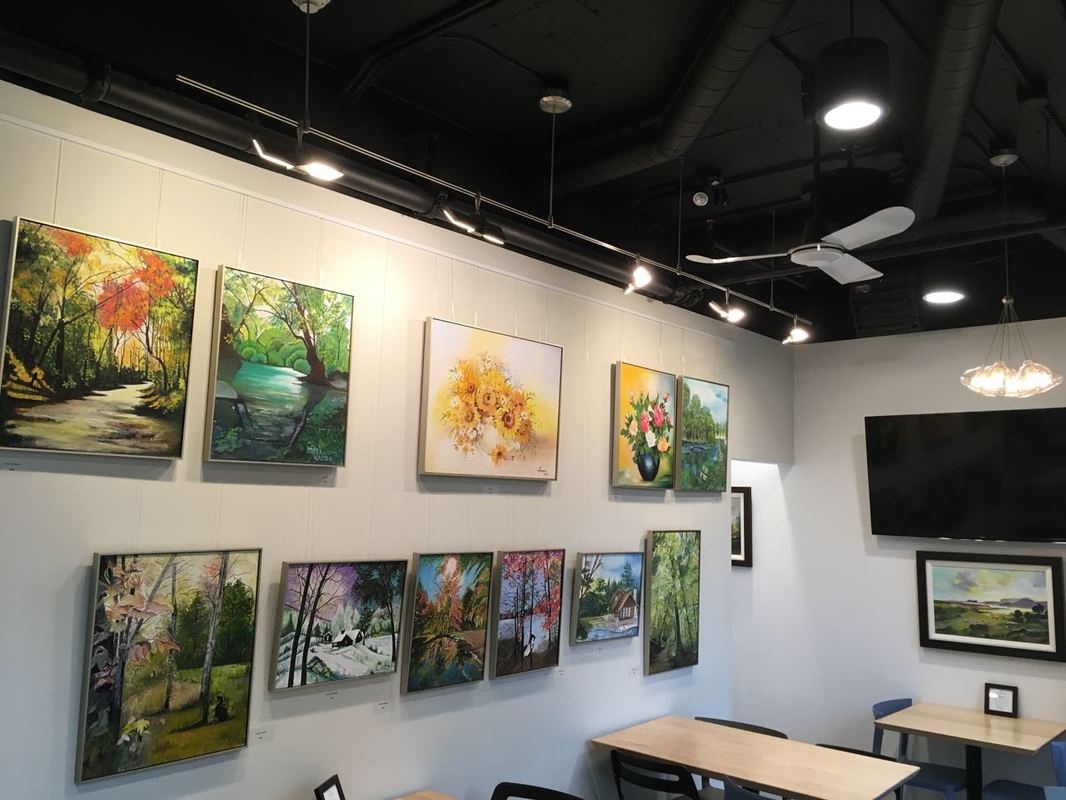 Coming Soon: It is our intention to soon be offering a small selection of health-oriented books for sale, available for any who are seeking more information on healthy living, as well as offering various different vegan recipes and nutritious meal ideas.
Also in the works is our History wall, which will provide a history of fermentation, nut cheese and nut milks and their nutritional values. Please stay tuned..
Atmosphere
​We maintain an environment within our Cafe that we believe reflects the people and surroundings of our neighbourhood, and our city. Our contemporary Café look and modern lighting are intended to offer a sense of interest and comfort as you regard the natural beauty of both our art wall, and the real-life art just outside our windows.
The atmosphere in our cafe is intended to allow people to sit back and relax while they enjoy a good meal at their own pace. While vegan food is our center theme, the cafe design is meant to make our customers comfortable. The aim is to offer a place of relaxation, and of life and intellectual diversity that is representative of the area we live in, an ever growing business and residential district.
The guest dining areas include table and bar seating indoors, as well as outdoor South-facing patio seating (weather permitting!) directly out front of the Cafe. The cashier station is centrally located for convenience to allow our customers an easy view of the foods we offer and easy navigation throughout the café.
We hope that our Café atmosphere along with our vegan meals will make your dining experience unique and pleasurable. We hope to offer that "something special" that will make you excited to come back and try something new!
We live in a busy world and hold ever-busier lifestyles. At Nut Tree Cafe, we feel that this means we need more places to connect within our communities, and
that this is more of a reason for us to become a neighborhood connection between commercial and residential guests, a hub for social interaction and a preferred eating place away from home for community members. We thank our immediate neighbors and teachers at Kenneth Gordon Maplewood School as our main supporters during our first month's opening.
We hope that our website will serve to inform you, as well as excite you to stop on by, and try a bit of what we have to offer.